Tuesday night I gave my RSS, Atom, APP, and All That talk to the Amateur Computer Group of New Jersey JUG in Scotch Plains. This is the seventh time I've given this particular talk, and I think last night I finally understood something about blogs that had eluded me up till now.
I've noticed for a while that blogging really represents a phase change in the Web. It has turned the Web from a read-only medium to a read-write medium. What I couldn't figure out was why. There's nothing technically different about using WordPress or Blogger compared to editing HTML and uploading the files to the server. Sure you don't have to know HTML to blog; but there've been HTML editors that look like word processors for 10+ years now, and they didn't lead to the explosion of content with blogs. FTP's a bit of a pain for a non-techie, but there've been content management systems and editors that use HTTP PUT and/or hide the FTP client. None of them led to the explosion in content we see with blogging.
Nor is it that there's one service that's just particualrly well done that has allowed blogging to explode. If so, you'd see something like MySpace; that is, all the blogs on one site or platform instead of the plethora we have today (WordPress, Movable Type, Blogger, etc.).
But there is one thing that all these blog systems (and most others) have in common that none of the editors like DreamWeaver or Content Management Systems support:
User don't have to pick their URLs.

URLs were invented by a programmer, Tim Berners-Lee. They were designed to mirror the Unix file system because that's what programmers were comfortable with. It also made it easy for early server software to map URLs to a Unix file system, modulo a few security bugs when hackers started putting .. in the URLs and walking through the file systems.
Programmers and power users are very comfortable with file systems and file system paths. Strings like /Users/elharo/documents/books/javaio2 are part of the air we breathe. We barely even notice them, and rarely think about them. We just use them. These make sense to us in a very deep way, and it's not just out of familiarity. I suspect the same things that make us good programmers and good techies make us very comfortable with hierarchies. We tend to invent hierarchies where there are none and organize the world into hierarchies to make sense of it. Think of taxonomy or XML.
We are weird! Normal people do not do this!
Hierarchies are not a natural way of thinking for most people most of the time. In particular, file systems are not a comfortable way for computer users to organize things. 20 years after the first GUI interface with a hierarchical filesystem, most users still save all their files in one of two places: the desktop or the documents folder. If their finger slips and they accidentally move into a different directory, they are lost. They may never find their document again. If they do find it, it's probably via search. Noticing where they put something and remembering that location is too hard because the whole hierarchical file system does not fit their mental model. These are not dumb people and these are not people who cannot use computers. They are simply people who do not think in hierarchies.
The beauty of the Web is that there's no visible hierarchy to explore. That's why the Web works for readers. They just follow links and search. They don't have to think about hierarchies of sites. Web developers tend to lose sight of this simple fact because we do have to think about the hierarchy of a site. We even design sites with hierarchies and provide site maps that lay out the hierarchies, and then wonder why nobody uses them. However to a typical reader, the Web isn't a hierarchy, never has been, and never will be. Most importantly they don't want it to be. They don't think in hierarchies.
What have we traditionally asked someone who wanted to publish on the Web to do? Design a hierarchy. We've taken the one thing that is most confusing to end users in desktop computers and transplanted it onto the network. We haven't even done it with a nice desktop GUI that is marginally accessible. At best we've provided something that looks like a standard file open dialog box. (Figure 1) At worst, we've actually expected users to use the command line and make mental models of hierachies with no visual file and folder representation to help them out. Is it any wonder this failed?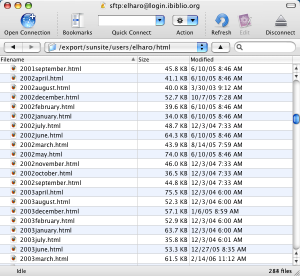 Figure 1: A typical "easy-to-use" GUI FTP client
Until blogging. The big difference between all the major blogging platforms and pretty much everything that came before them is that in blogging users don't choose the URLs. Therefore users don't think about hierarchies. They just type some data into a Web form or GUI client and press a Publish button. (Figure 2) The blogging system then chooses a URL for them and it organizes the hierarchy without bothering the user.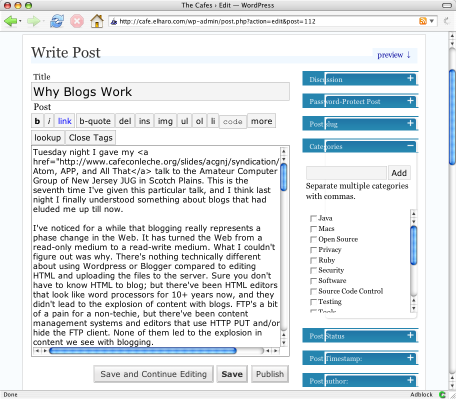 Figure 2: A typical "easy-to-use" blog editor
That's why blogging works. That's why there are over one million people blogging today. And that's how blogging turned the Web into what it was always meant to be: a read-write medium for everyone, not just techies.