I'm realizing that my productivity since I moved has been severely reduced by the setup of my loft here in Irvine compared to the office I had back in Brooklyn. Herewith are some resolutions and plans for fixing that. Suggestions are appreciated.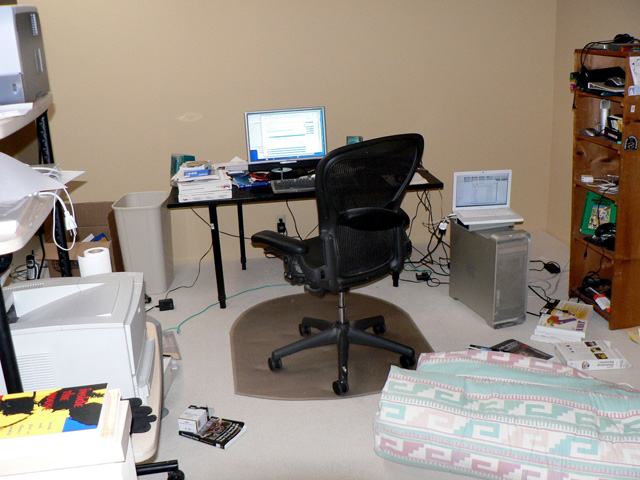 1. Fix the Carpet
The shag carpet everywhere in this apartment is evil. It needs to be ripped up and replaced; or alternately, covered with some very solid, rigid plastic or wood flooring. Shag carpet is not suitable for an office.
I can get a decent 4′ x 8′ board or two at Lowes that should suffice, if I can just figure out how to fit that in my Prius. (I just knew I was going to regret not buying the pickup truck. 🙂 )
2. Turn on the A.C.
The problem with a loft office is that heat rises. The central air conditioning in this place is not very effective. I need to improve it, or keep it running more of the time.
3. Buy a New Chair
My Aeron is just too old and decrepit. It lasted a while, but I need a new one, or something better. This won't matter though unless I fix the floor first. (See #1.)
I'm willing to consider non-traditional chairs (kneeling chairs, recliners, etc.) but it might need to be in conjunction with a new desk. I'll only try this if I can really try it out at a store first though.
Desk wise, what I want doesn't seem to exist (and I've looked). I want a fully adjustable desk. I want to be able to independently and easily move the monitors, keyboard, and mouse to exactly where I want them, within a millimeter or two; up and down, backwards and forwards, and possibly tilting them as well. Anything that's a fixed height is almost certainly not the right height for me, on at least one axis.
On the other hand, the one piece of my current setup that really works adequately is the table I use as a desk. It's a big board from IKEA on top of some adjustable height legs normally used by musicians. If I can't find anything better, this will continue to serve.
I should probably also get an extra table for random paperwork, books, disks, and other office flotsam. However, this will be less helpful if I can't roll my chair over to it.
4. Buy a New Mouse
Done, but the Logitech I bought just isn't cutting the mustard. The response is too linear. I need to go back to a Microsoft Intellimouse. Nothing else feels right.
5. Buy a KVM
I need to be able to access several systems easily without switching all my cables around. I need at least 2 setups and maybe 4: Mac, Linux, and PC.
The problem is most KVMs are stuck in 1998: VGA displays and PS/2 mice. Does anyone even use those any more? All my systems are DVI and USB. The Belkin Flip might be a start, but is there a 4-port version?
6. Buy an External Hard Drive
Well, really, buy some more. One thing I didn't expect from the move was that I have now shifted over to my X86 MacBook as my primary system. Aside from some minor Warcraft glitches, it performs as well as my old dual G5 desktop, which I now rarely turn on. However it is lacking the hard drive capacity of the G5. I need to figure out which of my files really don't need to be with me all the time, and move them onto an external drive.
The tricky part is that a lot of what really needs to move is my media. That is, my iTunes and iPhoto libraries. However I don't want to move all of it. Some of it needs to stay with me. Is there a way to split these libraries across multiple physical disks? Another large folder that really needs to be split into occasional and essential contents is my Applications folder.
7. Get Virtualization Running
Figure out why Parallels is non-functional.
Or install VMWare.
Or get Bootcamp going.
If I can get all that done, then maybe I'll finally be able to start doing some real work at home. I would even be willing to pay an ergonomics consultant or interior designer if they could find me a setup I'm comfortable with. But it has to start with replacing this damn shag carpet!